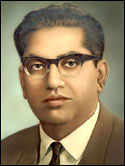 The Award programme was introduced by HRH Prince Philip, The Duke of Edinburgh, in 1956 in England. Since its inception HRH is pattronising the programme. The programme is now expanded over 113 countries. Late Mr. Mohammad Ali Rangoonwala brought this unique programme to Pakistan in 1987. Late Hakim Mohammad Saeed remained its Chairman for 10 years. The Award programme is now available in Karachi, Peshawar, Lahore and Quetta and in many other cities.

The Award World is divided into four regions that includes Africas, Americas, Europe & Arab States and Asia - Pacific. The later one comprises Australia, Hong Kong (PRC), India, Indonesia, Macau, Malaysia, Newzealand, Pakistan, Singapore, Srilanka, and Fiji. The Asia-Pacific Regional Board meets once in a year. Pakistan is also an elected member of International council that comprises 13 states and HRH Earl of Wessex presides the council. Pakistan is also founder of Duke of Edinburgh's Award in Afghanistan. The founder HRH Prince Philip visited Pakistan Award Programme twice since its inception.

After achieving the Gold Award there are opportunities for going abroad for attending training Workshops and other events. Pakistani Entrants and Award Leaders have attended such events in Hongkong, India, Indonesia, Malaysia, Srilanka, Nepal, Singapore and Ireland. The officials of the Award programme in Pakistan have represented Pakistan in various programmes held in Australia, Indonesia, Malaysia, Hongkong, Mauritius, Singapore, India, U.K., New Zeland, South Africa, Barbados, Afghanistan, Bangladesh, Nepal, Ireland, Macau and many other.